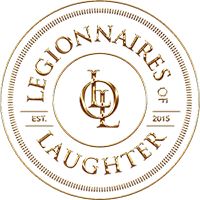 The Legionnaires of Laughter are the most influential and successful comedians, comic actors, writers, artists and entertainers, whose work in the art of comedy makes a global impact on humanity.
---
THE LEGACY
The King of Comedy, the late Jerry Lewis, called upon the world's best in comedy to join him in 2017 to launch the inaugural Legionnaires of Laughter Legacy Awards. A night to celebrate his peers and honor their contribution to humanity.
In a world that needs joy now more than ever, it is extremely timely
to honor each of these comedians for their lifetime achievements in
making a difference in the everyday lives of mankind.
On this night one Legionnaire will also be awarded with the lifetime achievement award for their work in achieving a global impact and creating positive change through laughter, amongst over 20 more awards in global comedy.
This event is set to be the most prestigious honor award nights in comedy. A legacy Jerry Lewis was proud to leave behind.
All profits from sponsorship of the evening will be donated to Jerry Lewis's charity Jerry's House.
THE RECOGNITION
The original Legionnaires were hand picked and inducted into
the Legionnaires of Laughter Academy in 2017.
Once inducted Legionnaires will have the rights to the following:
Have the honor to be introduced as a Legionnaire of Laughter in all future public introductions.
Recognized as part of a unique society that contribute to the science of humor therapy and the effects of humor on a global community.
Have the exclusive opportunity to Present and/or host a Legionnaires of Laughter Event including the prestigious Legacy Awards.
Have the exclusive right to nominate and vote on all Legionnaires of Laughter Awards and have the right to recommend and nominate new inductions into the Legionnaires of Laughter Hall of Fame each year.
---
T

he Legionnaires Of Laughter Academy

✻
Dan Aykroyd
Jason Alexander
Woody Allen
Tim Allen
Anthony Anderson
Jennifer Aniston
Govardhan Asrani
Rowan Atkinson
Alec Baldwin
Stanley Baxter
Samantha Bee
Richard Belzer
John Bishop
Jack Black
Wayne Brady
Russell Brand
Tim Brooke-Taylor
Mel Brooks
Carol Burnett
Michael Caine
Steve Carell
Jim Carrey
Drew Carey
DANA CARVEY
Dave Chappelle
Jackie Chan
Chevy Chase
Tommy Chong
John Cleese
David X Cohen
Stephen Colbert
Billy Connolly
Pat Cooper
Courteney Cox
Norm Crosby
Billy Crystal
Tim Curry
Jim Dale
Ted Danson
Larry David
Ellen DeGeneres
Dame Judi Dench
Robert De Niro
Danny DeVito
Jeff Dunham
Susie Essman
Charles Esten
Lee Evans
Jimmy Fallon
Bobby Farrelly
Peter Farrelly
Craig Ferguson
Will Ferrell
Tina Fey
Dawn French
Stephen Fry
Jim Gaffigan
Graeme Garden
Jeff Garlin
Ricky Gervais
Whoopi Goldberg
BOBCAT GOLDTHWAIT
Kelsey Grammer
Kathy Griffin
Matt Groening
Kevin Hart
Peter Helliar
Barry Humphries
David Hyde Pierce
Eddie Izzard
Kevin James
Jim Jefferies
Ken Jeong
DWAYNE JOHNSON
Walter Kamau Bell
Anupam Kher
Jimmy Kimmel
Robert Klein
LISA KUDROW
Matt LeBlanc
Jay Leno
David Letterman
Rich Little
Julia Louis-Dreyfus
Joanna Lumley
Norm MacDonald
Seth MacFarlane
Howie Mandel
Bill Maher
Cheech Marin
Steve Martin
Melissa McCarthy
Bette Midler
Hasan Minhaj
Colin Mochrie
Bill Murray
Mike Myers
Bob Newhart
Trevor Noah
Graham Norton
Catherine O'Hara
Brendan O'Carroll
Bill Oddie
Patton Oswalt
Michael Palin
Matthew Perry
Mark Pitta
Greg Proops
Michael Richards
Chris Rock
Seth RogEn
Ray Romano
Adam Sandler
Arnold Schwarzenegger
David Schwimmer
Jason Segel
Jerry Seinfeld
Paul Shaffer
Brad Sherwood
Martin Short
DAVID SPADE
Jon Stewart
Ben Stiller
Jerry Stiller
Ryan Stiles
CHRIS TUCKER
Dick Van Dyke
Damon Wayans Jr
Rebel Wilson
I

n Memoriam